We spent the majority of July away from NC, escaping some of the heat and humidity. Though we typically worked during the day, we had plenty of time in the evening and on weekends to check out the nearby beaches, farm stands and other sights of the North Fork of Long Island.
On July 5 we went to Greenport to check out the carnival and free mid-week fireworks.
In mid-July we checked out the "Reflexions" lights on the Peconic river in Riverhead. It was underwhelming, but an excuse to get out of the house and visit a brewery as well!
As with each summer, we visited Bailie Beach multiple times for sunset views. Watching various birds hunt for an evening meal was a particular highlight.
And on one visit we found a horseshoe crab coming up on the beach.
One weekend morning we walked down Laurel Lane. There is little shade along the route, so it was quite sunny, but we were rewarded with views of Peconic bay.
On another weekend morning we borrowed my mom's parking permit to check out New Suffolk Beach on a beautiful day with lower humidity. We meandered our way through the village, along the beach and through neighborhoods.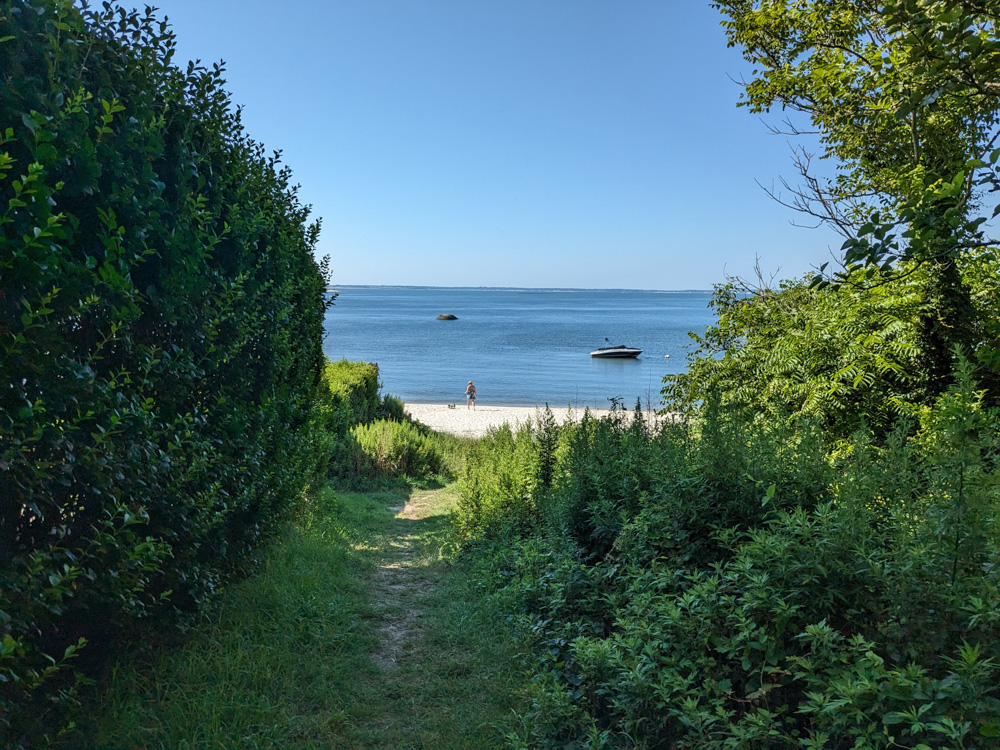 We saw a free jazz concert by the Iris Ornig Quintet on July 18 in East Quogue Park thanks to their Summer Concert Series. The people and dog watching alone was worth the drive.
Of course we also visited several farm stands, buying corn from the Wowak stand, sunflowers from a roadside spot in Laurel, pate and other items from 8 Hands Farm in Cutchogue, and sour cherries from Bayview Farms. On top of those, Leandra also tried oysters from the Laurel Lane oyster stand ($15/12) and returned to Little Ram Oysters too ($35/25).
I also helped my Dad clean out the top of the garage attic space. Before and after photos below!