Monday
On our first afternoon in Bologna we saw these little cakes in the window of Paolo Atti & Figli – torta di riso, so we had to try it. It is a lightly sweet cake made from rice that had a little al dente crunch. Nice snack!
Our next food stop was Enoteca Italiana, a wine bar and shop. They don't have a set list of wines available by the glass, you just ask at the bar. Thankfully their English is excellent! I got the Tizzano Pignoletto Frizzante, a spritzy white from the local DOC, while Leandra ordered the St. Michael-Eppan Lagrein, a red from Alto Adige. After noticing that they had a deli section, Leandra ordered a small cheese and meat plate – the parmesan and ham were great. For round two I had the Manicardi Lambrusco Vigna Ca del Fiore, while Leandra went a little stronger with a Gradizzolo Naigartèn.
Dinner reservations were 8:30p at il Passatello di Bologna, where we sat outside. We decided to split a bottle of Romandiola Pignoletto Cuvée Brut, another local bubbly with notes of lemon and a little cream, mineral, and apple. Light, but went well with food and was a great value. Dinner-wise I had the house specialty – passatelli with prosciutto, while Leandra went for the local classic tortellini in brodo. Somehow we had enough room to split a tiramisu for dessert. Everything was excellent!
Tuesday
Most of the day was spent in Modena, but we were back in Bologna for dinner. Instead of a sit-down restaurant we decided to stay more casual and do takeaway. We returned to Enoteca Italiana and found a Bonfadini Franciacorta for 20€, then hopped over to La Mortadella for a mortadella and artichoke sandwich for Leandra and a baked ham and mozzarella for me (they were sadly out of prosciutto). These sandwiches were big, tasty, and a great deal at 6€ each!
Wednesday
Sablè Gelato has a 4.9 on google with 700+ reviews, so I was definitely intrigued. They were closed Monday and Tuesday, so we made it a point to visit on Wednesday. The owner is clearly quite passionate about the ingredients and gelato he makes with them, and walked us through the options. I went for the Sicilian limone (and gin) and paired it with the Avola almond per his suggestion, while Leandra tried the Gorgonzola & mountain pine cone plus the Peruvian single source dark chocolate. Really unique and well worth the higher expense.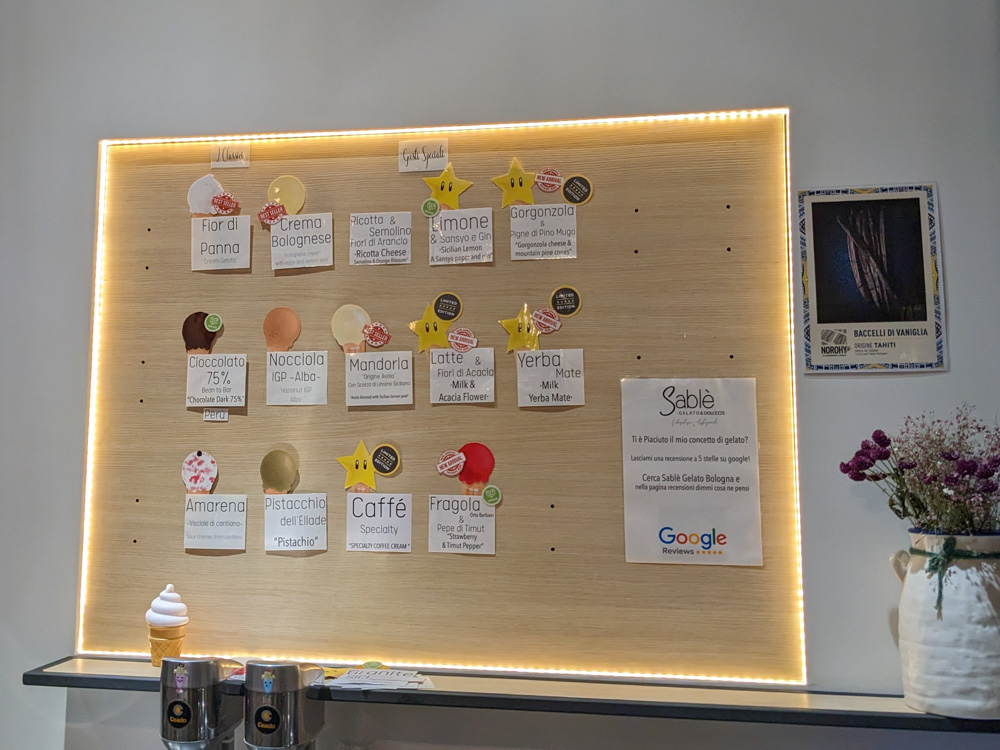 After visiting museums in the afternoon we headed to Fabrik wine bar where we managed to snag an empty table in the corner window. They had an interesting list, so we tried the following
Pignolleto bio brut – these are just a good choice in Bologna, local and very drinkable (Eric)
Ripasso – couldn't pass up an opportunity for one last Ripasso on this trip (Leandra)
Passerina – light citrus (tangerine), crisp balanced acidity, quite pleasant (Eric)
Lagrein- very soft, lots of violet. Slightly bitter finish. Smells of smoked meats and stewed cherries with hint of cedar, low tannins med dry with soft finish (Leandra)
Our wine was served with potato chips and olives (lemony). After seeing bruschetta at other tables we decided to try the ham and parmesan cream version… let's just say we've now added that to our recipe list back home!
Ristorante da Nello al Montegrappa is described as a buzzy restaurant, and wow, that is an understatement. Luckily we had reservations, and were quickly seated in the surprisingly large basement. Since this was our last meal of the trip neither of us could resist ordering the famous tagliatelle Bolognese, which paired nicely with a Lambrusco Orlando Innamorato. Between the pasta and breadsticks we left stuffed and happy, a fitting way to end the trip.