During our planning, we became quite interested in the wine regions around Verona, and we were not disappointed in our visits. There are multiple appellations within 30-60 minutes driving, and each has a unique set of grapes and wine making styles.
Soave
Soave is a region about 20 minutes east of Verona. The drive in featured beautiful views of vineyards, with a castle sitting above town as we approached. We parked on the north side of the village walls and walked through town for nice views of walls and towers. Things were pretty sleepy on a weekday afternoon.
We were a little early for our reservation at Cantina Corte Mainente, but Sara was happy to start the tour, explaining they have vineyards on three different geologies – clay at the base of the hill, limestone on a ridge above town, and volcanic soil on the hillsides above the castle. Our brief walk to the lower vineyards featured lots of wildflowers between the grape rows.
Back at their facilities she explained that most of their wine is made in large concrete tanks, with some transferred to barrels for longer aging. All their wines are made with the same grape, Garganega, but using different techniques.
Next we were seated in their courtyard with a meat platter that included Soave ham (salty and a little sweet) and Sopressa (very flavorful, peppery) to accompany our tasting. Our notes:
Soave spumante brut –  light bubbles, medium acidity, lots of limey mineral, quick finish. Refreshing and light, good apertivo. We bought a bottle to drink later in the trip.
Soave Vigna Cengelle – from the clay-based vineyard. Floral (honeysuckle) nose. Quite light, pear, a little orange honey and rocky mineral. Fairly quick finish. Nice warm weather white.
Soave Pigno Classico 2021- from the volcanic vineyard. Nose with some sea salt, honey. Rockier than before, a little creaminess. Somewhat viognier-like. Light finish, wanted a little more acid on this one.
Soave Netrroir 2021 – includes grapes from each vineyard. First they dry grapes for two months, then press, with half the wine going to the concrete, and half to wood barrels. Just bottled in April! Golden color. Strong oak, vanilla. Good acidity. Chardonnay-like.
Recioto di Soave Luna Nova 2021 – grapes dried for 6 months, pressed in February, then barreled for year plus. Golden color. Late harvest like, lots of honey and vanilla, almond, a little bite on finish. Balanced sweetness. Served with almond cookie, yum!
We really enjoyed our tasting here, highly recommended.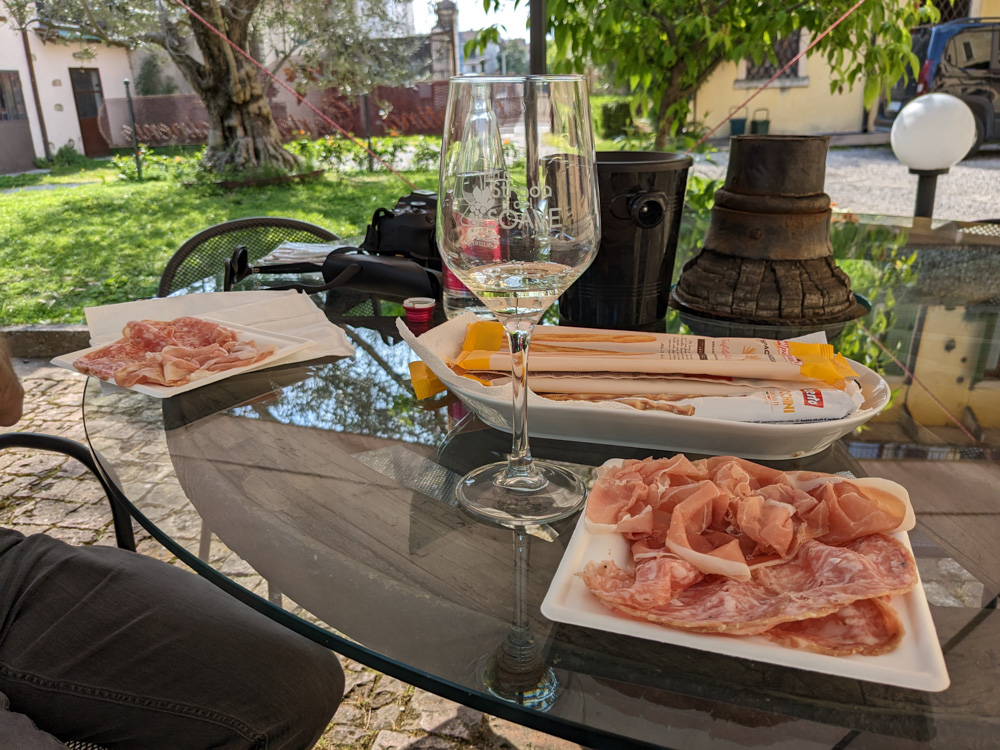 Valpolicella
Valpolicella is north and a little west of Verona, and here they grow red varietals here including Corvina Corvinone and Rondinella. Often times wineries will air dry their best grapes for several months to make the famous Amarone wine. Leandra chose Azienda Agricola Boscaini Carlo for our official Valpolicella tasting as they had good reviews and price points.
Valpolicella DOC Classico 2021 – medium body, nice dark color.
Valpolicella DOC Classico Superiore 2019 – 1 yr in oak. Long lasting finish. Oak, red fruit, a little mint and tobacco. Really lovely.
Valpolicella DOC Classico Superiore Ripasso 2019 – the ripasso style means they take juice from the classico or classico superiore allotment to re-ferment on the leftover Amarone skins. Chocolate, cooked cherry, a little brown sugar. Very smooth, a little heat on finish. 2 yrs on oak. Probably good for another 5-10 yrs.
Amarone della Valpolicella DOCG Classico 2016 – S. Giorgio – grapes dried for four months, then pressed and given a slow, cold fermentation. Like dark cherry pie, brown sugar, cedar. Beautiful.
Amarone della Valpolicella DOCG Classico Riserva 2013 – 6 yr oak. More floral, medium bodied and finish, very refined.
Recioto della Valpolicella DOCG Classico 2017 – la sengia – 6 months of drying. Medium sweetness, raisin but not cloying, still some nice acidity.
We had the place to ourselves for most of the wine tasting, and afterward got a quick look into the large barrel cellar.
Well worth the trip and we really enjoyed the wine here as well. Afterwards we drove up to San Giorgio (Sant'Ambrogio) di Valpolicella for views of the valley all the way to the lake.
Lugana
Lugana is a small appellation directly south of Lake Garda. We drove here on a whim looking for lunch after our morning in Sirmione, hoping that Agriturismo Sapori in Cantina would have space without a reservation. Luckily they did!
From their Fratelli Fraccaroli brand we tried:
Garda Colli Mantovani DOC Chiaretto – lighter side of chiarettos, but nice berry and enough acid to stand up to ragu.
Rosso La Nerra 1912 – 3 years of aging, nice fruit.
'Campo Sera' Lugana DOC Superiore – the wine unique to this region, made from Turbiana. Lightly oaked, delicate but medium body. Floral, light almond, apple.
Prosecco Spumante Brut – light and spritzy.
We paired those wines with a Bigoli with ragu (me) and a tagliatelle with chicken livers (Leandra). Pleasant all around.
Bardolino
Bardolino is not just the town we stayed in, but also an appellation that covers the nearby hills east of the lake. Their primary wine is a light red, typically made with Corvina and other Italian varietals. They are also well known for their take on a dry rose, known as chiaretto. While we tried several Bardolino wines, we only stopped at one winery, Villa Calicantus. Their property has lots of Italian countryside charm – a sunny courtyard, old stonework, etc.
Bardolino Classico Chiaretto DOC 2019 – unusual in that it is aged in oak (and from 50 yr old vines). Deep pink with nice body, somewhat pinot noir like, with a slight bitterness on finish.
Bardolino Classico Soracuna DOC 2019 – their daily red. Fruity but earthy, not Leandra's fave.
We found their wines rather pricey for area, not a great value compared to some of the other Bardolino wines we had on our trip. However, the views from the vineyard are quite nice – we walked up the hillside from the chicken coop for amazing views over the nearby town and to the lake.
Custoza
Known for it's white wines, and often growing a variety of varietals, this region is south and west of Verona. We found ourselves with a few hours on a Sunday morning before needing to return our rental car, and after a few Whatsapp messages, Casa Tione opened just for us!
Our tasting –
Rosemary frizzante rosé – Light pink color, made from Corvina grape. Lots of fairly small bubbles, surprisingly delicate. Nice balanced acidity.
Custoza DOC 2022 – blend of whites, quite light with a floral nose. Palate of floral and almond with a nice finish. Good warm weather wine.
'1913' Custoza Superiore DOC – 2021. Oak barrel for a few months, brings more flavor and aroma. Like a lite chardonnay, would be a good dinner wine.
Rosso Superiore IGT Merlot 2020 – soft and fruity, not a lot of acidity. Typical merlot nose with violet.
Protetto Rosso Superiore IGT 2020 – 80 cab / 20 merlot, Fruity and delicious.
The wines here were a great value, and it was nice to have both white and red all in one spot. Plus, the owners couldn't have been more hospitable to us. Given the location 20 minutes from Verona airport this is a definite recommend from us.