After a filling breakfast at the hotel, we started the day on the Seouljo – a 1km long repurposed road made into an unexpectedly pretty raised botanical garden. We also scoped out an alternative path to the main train station that we hoped would eliminate some of the stairs when we had to transfer to the airport later that night.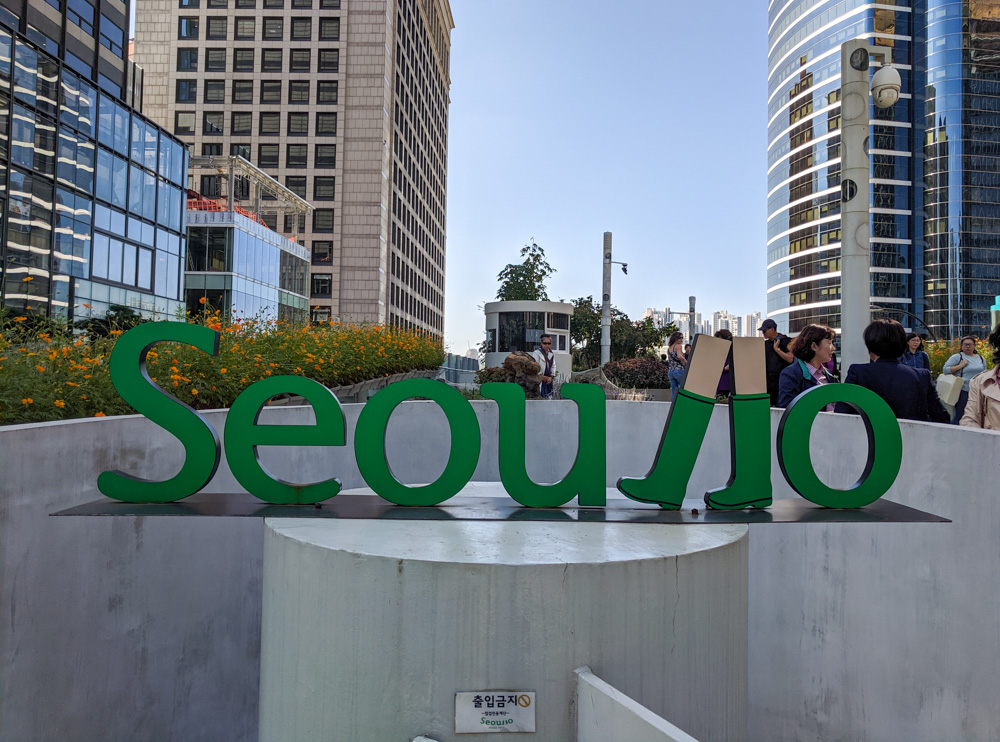 Also nearby was Sungnyemun, one of the Eight Gates in the Fortress Wall of Seoul, which surrounded the city in the Joseon dynasty. I loved the dragons painted on the ceiling.
Feeling hungry after walking off all my breakfast calories, I requested Eric find me a Korean hot dog! We passed by a few stalls but opted for Arirang as it's a chain and looked, well, cleaner than some of the street food places. Here I am adding sweet chili sauce to the cheddar stuffed, deep fried hot dog. So good. We also discovered that Koreans have an amazing array of flavored almonds – tteok-bokki was a nice spicy flavored example.
We continued walking back to the Cheonggyecheon riverwalk area to see the umbrellas in the daytime and discovered a religious festival in progress, where I scored some free cotton candy and other goodies.
Knowing we had a few more public transportation rides ahead of us, we stopped into a 7-11 to top up our TPasses. Unfortunately, due to miscommunication (or carelessness), the lady added all of the 10K note I handed her instead of the 3K I asked her to add.  Thankfully she was mostly able to undo her mistake but wound up giving me 450 won in change that she had removed from my card. I have no idea how this process works but ultimately I had enough on the card for 3 more rides. Not wanting to confuse the issue further, I just used the machine in one of the subway stations to put extra funds on Eric's card, which went smoothly.
We figured we needed to at least check out the famous Gangnam area, so we got on the metro for the 20 minute ride across the river to trendy Garosu-gil street. We had originally considered staying in Gangnam but ultimately booked a hotel closer to Seoul Station and many of the sites we wanted to see. I liked this area fine but it's definitely more upscale and pricier than other parts of the city.
The sun was starting to fade and I hadn't brought a sweatshirt with me, so after some light shopping, we ducked into the Mikkeller Bar for a beer and decided what to do for dinner. While debating options, Eric had the Hose Nose (a medium sour with light passion fruit) and the Mysterlee Suhyang (nice creaminess, Asian fruit, floral notes from hops, and a little spice with some light sourness) while I sipped a strong Chipotle Porter. Like other Mikkeller bars we have visited, the prices were high but the space was cute and comfortable.
So! Sit down restaurant or street food? We decided to take the subway back to Myeongdong Night Market area to check out the street food scene. It took a few minutes to scope out the six blocks of stalls, and then we went back to try our top choices: pork mandu (dumplings), kimbap (Korean sushi), a Bungeo-ppang (fish-shaped pastry) with nutella, and hotteok (a fried pancake with brown sugar and nut filling).
At this point I was getting chilly, so we headed back to the Hilton to grab our stored luggage and transfer hotels. The train transfer to the Grand Hyatt Incheon near the international airport took about 2 hours from hotel to hotel. We got the disposable tickets again but realized later than we could have just used up the money on our TPasses. Oh well. I think my brain was getting tired near the end of this trip!
We weren't in a huge hurry to get to the hotel, so at the airport we stopped at A Twosome Place to split a slice of cake before catching the hotel shuttle. Once we found the shuttle stop it was only a short five minute ride to the hotel.