On Saturday we brgan the trip home with a bus back to Malaga at 11am. To get to the intercity bus station we took the local Granada bus, and this is one of those times where a taxi would have been much quicker and easier given the long wait for the bus (almost 20 minutes) and over-crowding. Lesson learned. For the intercity bus to Malaga we had assigned seats; Leandra tried to put us on the wrong bus (which, in her defense, also went to Malaga at the same time one stall over), which necessitated me crawl into the back of the bus baggage area to get our bags out of one bus and onto the correct bus. Thankfully we had a smooth ride from there through the olive-tree studded countryside and were soon in Malaga.
It was decent walk to our hotel, especially to get around some constructions obstacles, so we arrived a bit warm. Thankfully the hotel lobby was nice and cooling. Our room was ready so check in was easy, and as a bonus we were given drink vouchers.
After a quick change of clothes we went out to see as much of the city as we could in one afternoon. We meandered through the pedestrian area to the Alcazaba. Part fortress, part palace, this historcial site was a great place to walk around with nice views over the city, cool water features, and lots of nooks. Also, few handrails or other safety measures along the walls. Well worth 2.20 euro entrance pp.
As the photos attest, it was a cloudless day and the sun was quite strong so after exploring the Alcazaba we decided to head for the interior of the Malaga cathedral. Entrance was 5 euro pp, and the church had an odd layout with large altar on one side and second altar-like area dominating the middle. The middle altar had some great carvings and details however.
Granada's cathedral was a little more overwhelming, but this was quite impressive. After all our touring we needed a snack and seeing the earlier crowd (and loving the name and design) we decided on Vacaloco for tapas.
I tried the tinto de verano on draft, which is red wine mixed with lemon soda –  very refreshing without being too alcoholic in the middle of the day. Leandra started with a rioja but switched to the  tinto de verano after she tried a bit of mine. Each drink let us choose from five tapas possibilities, and I choose well with the empanada de carnes which also turned out to have goat cheese inside. It wasn't pretty but it tasted awesome. Leandra's first choice was a tostada with mustard and cheese.  OK, but after trying the empanada, she switched to the empanada for her second. The restaurant was very busy when we arrived at 3:45, and started to quiet after 4:30. For four drinks and food we were charged 7.60 euro… we would definitely return.
A small amble through the shopping district on Neuva, where stumbled on a view of  The church was open and had several of the Easter processional floats ready to go and on display.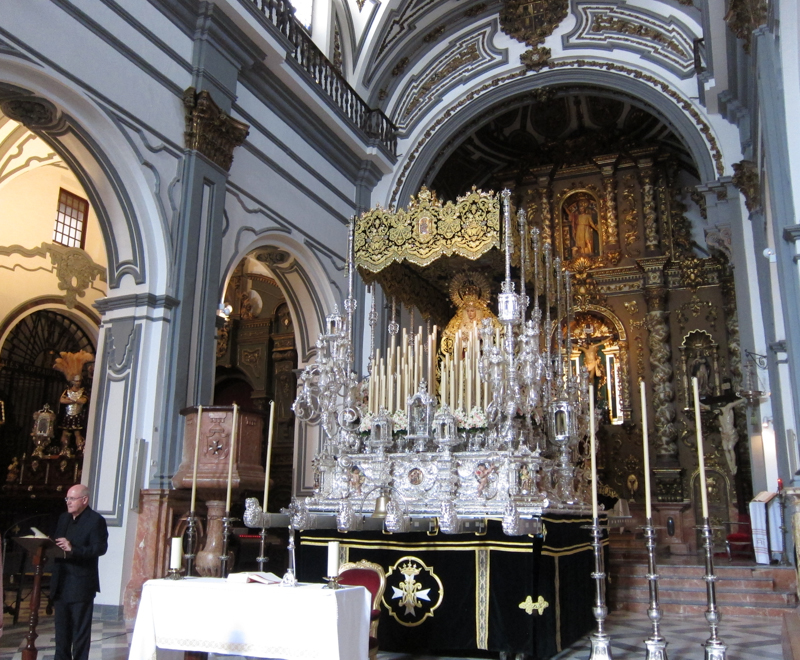 At 7:30pm we headed back out to Antigua Casa De Guardia, a sherry wine bar. While located along a main road the sign is quite small so you need to know where you are going; thankfully we found the rustic shop and stepped in to a very different scene.
At this old bar you drink standing at old wooden tables with your tab drawn in chalk. Quite a unique experience. Leandra asked for semi-sweet, so the server mixed pedro ximen with seco. Honey, spices, golden raisin on tongue, very easy to drink. I choose a moscatel – very fragrant, dessert wine-like, honey and brown sugar. For our next glass, we decided to split a Pajarete 1908 – darker in color, still sweet with burnt sugar, but a lighter finish than the moscatel.Very nice, and we thought they would be good with ginger cookies.
Next, we walked down Paseo Parque, admiring the fountains and then past the fort. Not too far after we stumbled on an early Easter procession – awesome!
Leandra grabbed a table at Arte&Sana craft beer for tapas/dinner and I went back to get some photos.It was quite a spectacle with the slow movement of the float, the incense, and the musicians, and I'm quite glad we got to experience it.
Leandra started with Hornbeer's Black Magic Woman (imperial stout), and I had the Bush de Noel, both on draft. A goldfish style cracker was served as a tapas, and we also ordered a tostada extremana (with morcilla, aka blood sausage) and the jamon croquettes (very light and fluffy). Once we scored a copy of the enormous bottle list, we focused on Spanish bottles for our second round: a Guinea Pigs quad (with chocolate and simcoe hops) which was really good, rich and dark, and the Sagra rubia triple, solid effort for style, with nice warm spice and sweetness. Very tasty but I had the Guinea pig beer best :) We also enjoyed watching football with the rest of the bar, even if Barcelona surprisingly lost to Granada.
After arriving back at the hotel we used our free drink vouchers for a small glass of sherry. We had the downstairs lounge mostly to ourselves so it was a nice place to relax before repacking and getting some rest before our early flight out the next morning.