While the area around the Yarra Valley is well known for its wines there are also a number of nice nature spots in the neighboring hills too. We started out our first morning with a curvy drive to Marysville featuring lots of tall gum/eucalyptus trees and tree ferns.
Steavenson Falls is a well-marked short ride from Marysville, and we were lucky to beat two bus loads of tourists by minutes. The walk from the parking lot is paved and easy, with a few vantage points to take in the falls.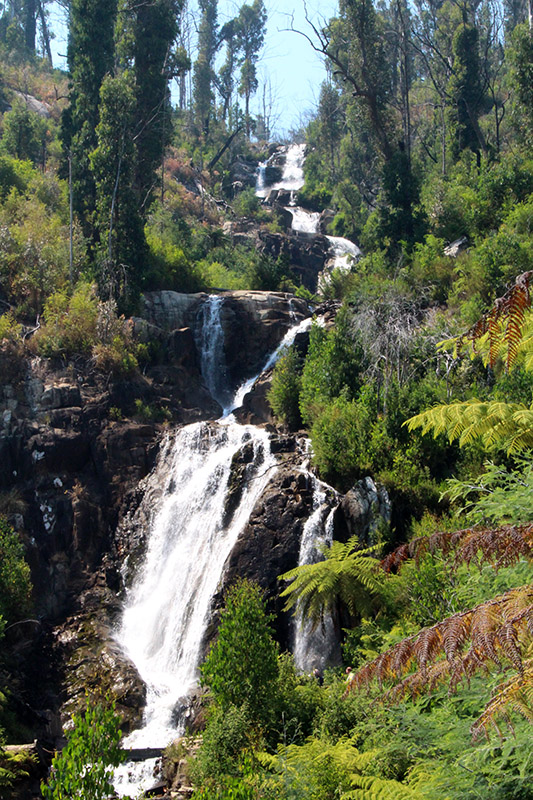 A tall falls, it appears that Steavenson is better shot on a cloudy day, or perhaps much later in the afternoon? Regardless, we still enjoyed experiencing it.
Later in the day we also found some nice panoramic locations in the valley.

looking east; farm fields looking southwest
The next day as we made our way to Melbourne we took a slight detour to visit William Ricketts Sanctuary, a park known for sculptures mixed in with a lush forest setting. Plus it was free! Our short hike did not disappoint.

doorways that are Leandra-sized!
Not far from the sanctuary was Olinda Falls  which we found after first driving a few minutes past the parking lot (signs never mentioned the falls, just a picnic spot). It was a relatively short walk through the forest to start, where we heard what sounded like a velociraptor in the trees.

Just a territorial cockatoo, thankfully.
The trail to the upper falls was fairly easy but turned quite steep for the remaining cascades and falls. Thankfully we had water with us as I worked up a sweat climbing up and down hillsides.
After the falls we continued our drive into the Melbourne CBD (Central Business District) for our long-awaited date with the Australian Open.