We'd been in Hong Kong on our first trip to Asia (Dec 2011), so we were excited to return during our long layover and try out some new spots while revisiting some of our previous favorites.
From the airport we took the 30 minute train ride into town on the express train which costs 100HKD per person or around $13. We were on one of the first trains of the day and we practically had the entire car to ourselves.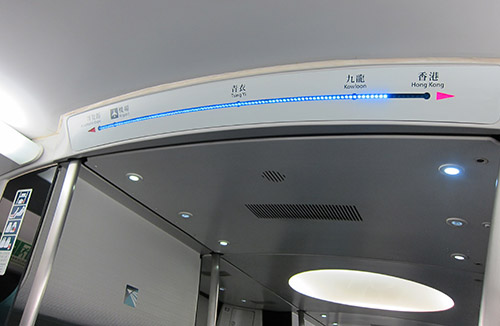 From the Central station we made our way to the outdoor bus depot and found the stands for Stanley buses – way at the far end. After skipping several buses we finally figured out which ones would take us to the center of Stanley, and how to pay. The Octopus card would have been much easier as exact change is needed otherwise. Thankfully, Leandra had some leftover money from our last trip, and in Stanley we got more change after buying a c.c. cookie for Eric. For reference, it was 17HKD each way for both of us (~$2.20). Lesson learned!
Thankfully we were able to sit in the front seat of the upper deck which gave us a great view on our journey.
As we made our way across the island we were impressed at how curvy and high some of the roads were – it is a mountainous island – and also at how narrow the road could be as branches kept hitting the windows right in front of us. After a 40 minute bus ride we made it to Stanley, which was still waking up on a Friday morning.
Lots of people were walking dogs, and the town had a more laid back and residential feel compared to the bustling urban scene just on the other side of the mountain.
We took a different bus back that went through Repulse Bay, and traffic had definitely increased as it was now mid-morning.
Feeling peckish, we took the famous mid-level escalator part way up, stopping on Wellington Street to find Mak's noodle shop. Though only 11:30a the small shop was starting to fill-up with lunch goers so we were lucky that we didn't need to wait. We each ordered a different noodle and dumpling bowl but wound up with very similar dishes, both of which were a little too shrimpy for Eric.
Just around the corner is Tai Cheong Bakery, famous for their egg tarts. Tasty and not too sweet, we've never had anything quite like them before.
The surrounding streets are filled with little cafes and shops like g.o.d. so we walked through a few, then went for a beer/cider at the Globe to rest our legs for a bit and catch some Australian Open tennis.
Feeling rested we decided to take the Star ferry to Kowloon, a bargain at 65 cents/two for the 5 minute ride which also provided us a nice view of the harbor. Plus I got Leandra on a boat early in 2013!
In Kowloon we wandered around the Tsim Sha Tsui shopping district stopping at a few stores.

by Hong Kong standards this isn't that busy…
At this point in the day we were starting to feel the effects of sleeping on a plane. Leandra spotted an ad for an Andy Warhol exhibit at the art museum, so we figured we would find out the price and make it our last stop of the day. Tickets were about $3, so we went in and thoroughly enjoyed the exhibit.

trippy escalator ride to the art
The museum is right on the waterfront promenade which provides a great view of the Hong Kong skyline.
We took the ferry back across to Hong Kong proper, had a light snack, then took the express train back to the airport to relax in the lounge. Thankfully, after the next overnight flight we would finally arrive in Australia!
You can see all our photos from this E&L Gallery.