This post would have been about only one place had our return flight not be canceled, but as it turned out, we were given the opportunity to stay at one of the other places we had researched before we left. :)
Bleu Emeraude (Grand Case, $199/night)—This sleek residence is located on the southern end of Grand Case beach, about a 5 minute walk to the main restaurant area. We had a studio apartment on the ground floor that provided us with absolutely incredible views of the Caribbean Sea from our patio.
The view from the second and third floors is probably even better! Our room was very modern and clean. One of our favorite features (besides the patio) was the full kitchen with a selection of sparkling, red, and white wine glasses. Now that is attention to detail.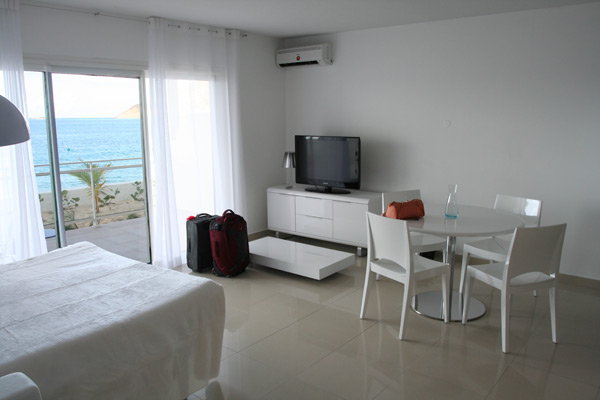 We never bothered converting our bed back into a sofa as we spent most of our time on the patio. :)
Beach towels were provided, and there was off street parking available… very nice considering the narrow roads and sidewalk parking in most of Grand Case. In the near future they should have underground parking which will help keep a car cool in the tropical sun. We loved the beach access from our room and it was very quiet at night.
We kept the sliding doors open most of the time, which helped ease the smell of fresh paint.  The only downside to the room was the sheer curtains. They offered very little in the way of privacy from the beach and did absolutely nothing to block the sunlight that streamed in at 6am.
Xavier, the owner, was very nice, but not around much, and the receptionist was only sporadically seen. I don't know who we would have contacted if we had a problem, but thankfully it never became an issue. Presumably this is being worked out as they aren't fully open yet.
Azure Beach Studios (Simpson Bay, $189/night)—We found Fawnette and Michael to be great hosts, full of helpful information and a good dinner recommendation. One item to note is that they didn't accept credit cards but there was an ATM a short walk down the road.
Our room was very comfortable and colorful. Once again we had a full kitchen and sitting area and beach towels were provided. Although our room (the Tropical Suite) was located in the courtyard (so no beach view), the sand was literally a matter of steps around the corner.
We didn't have our computer with us on this trip, but it would have been helpful considering the free wireless internet here, a nice touch. The parking situation seems a bit difficult because the hotel is located at the end of an alley and we saw several folks backing their cars about 300 yards out to the main street.
Azure Beach Studios is situated near the airport, so you could hear the planes flying overhead starting around 7am, but the noise didn't really bother us. They have a lovely patio for all guests to use right on the beach, so on Monday morning we picked up some baked goods and OJ and had our breakfast overlooking Simpson Bay.
Technically, we were "stuck" in St Martin for this part of our vacation, but we were glad we got the chance to try this place out.