Earlier, I wrote about some of the frustrating aspects of renting an apartment in Barcelona, but this post is about how much we loved having our own little place in the city.
Even though the location of the apartment was on a busy street, once the balcony and bedroom door were closed it was quiet enough to sleep. Plus, we were in a good location for getting to and from Eric's conference (a 20 minute walk each way), easy access to great markets (two within a ten minute walk), and near lots of good restaurants, grocery stores, and bakeries.
Our view from the balcony to the apartments across the street…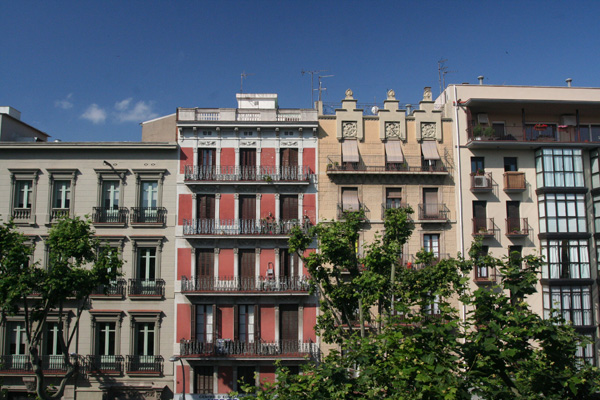 Here's how we dealt with the apartment negatives:
Problem #1, no wine bottle opener
We had planned on drinking cava most of the time, which is like champagne, so the bottles essentially open themselves, but I wanted some rioja to enjoy with my late lunches. On the way to Eric's conference location one day I spotted a place that sold wine from a huge barrel for only 1.80E a liter! They just poured it into a bottle, corked it and after 1.35E I was on my way. In other words, the wine in this bottle is in no way related to its label. It was pretty good, btw. :)
Problem #2, no matches to light the igniter-free gas stovetop
Eric came up with a solution to this problem. He took a long piece of cardstock, rolled it up tightly and set it on fire via the pilot light. He then carried the flame from the laundry area into the kitchen while I turned on the gas. All so I could make eggs on two of the mornings. I would not really recommend this method, but it worked for us.
Problem #3, neglectful management
Since we never had the opportunity to make a complaint directly to the manager upon checking out, I happily filled in the booking company with the details of our stay when they emailed us a survey to complete. :)